WIAW: Birthday Celebration! and Icing tip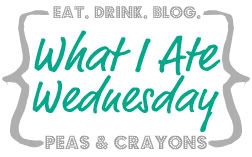 It is time for another What I Ate Wednesday link up with Jenn from Peas and Crayons. As always, thanks for hosting, Jenn. As you already know from this weekend's posts, we just celebrated Em J's first birthday. Birthday's and holidays are some of the hardest times to make sure you are eating healthy. With all of the unhealthy food at parties and all of the different tastes and preferences of friends and family, it can be hard to make sure you are putting whole foods into your body. I came this dilemma when trying to find a birthday dessert for Em that wouldn't be too expensive (like a gourmet cake), would have the ingredients in it that I approved of (at least most of them) and would actually taste good. I went through a few trial and errors hut eventually found one I liked. I figured I would share how I compromised between being healthy and enjoying food to celebrate.
My best tip is to fill up on the healthy options first. That way you can save the unhealthy for a treat and you probably won't end up eating as much. Instead of doing the traditional fasting before a big party, I tried to eat a lot of fruit and veggies all day. I knew I would still eat food at the party but if I wasn't hungry I wouldn't eat as much (by not that much I mean I ate a full plate but not 2). That way I still got a taste of the delicious food but I wouldn't gorge. 
Breakfast
While Andy went out to grab us donuts for breakfast to start the celebrating (yes, food is one of our favorite ways of celebrating any occasion), Em J and I chowed down on some watermelon and blueberries. They were amazing. I have been really enjoying both of these fruits this year and in the past I never really liked either. I used to be a strawberry girl all the way. I love how your tastes can change from one season to another. When Andy got home I then preceded to eat a donut. Again, since I had already eaten a lot of fruit I wasn't tempted to eat 2 donuts. It wasn't that I was holding back, I was really just too full for another one. 
Lunch
We were crazy busy getting ready for Emma June's party later that day so lunch was eaten on the run while finishing up her presents. I cut up some carrots, cucumbers and tomatoes while my mom was making a salad for the party and added a little touch of caesar. It was so refreshing and added more to my fruit and veggie load up. 
Dinner
Dinner was a little harder to hold back on the unhealthy; everything just looked so amazing. But luckily, there are always some healthy options at potlucks. I grabbed a plate full of salads early on in the evening when I was chasing Em J around to prevent myself from snacking down on the dips. Then when it was time for dinner I grabbed some of the foods that were really calling my name. I did have a problem with taking too much and wasting half of the plate because I got too full. I need to remember to take less next time. 
Dessert
Finally, dessert. This was not healthy but it was so delicious. Luckily, I was too busy tending to Em when the cupcakes were passed around that I totally missed my opportunity. By the time, I had a chance to get one it was late and I was tired. Believe me, this doesn't mean I didn't get one but I only took a half. I got the recipe for these off of How Sweet It Is. It is one of my favorite food blogs – Jessica's food always looks amazing and she is hilarious. I have been wanting to find a reason to make one of her desserts and I finally got the chance. They were really easy and everybody raved about them. Success! I am now addicted to making cupcakes. I want to make tons and tons. It was so much fun and I see so much potential in them.
** Icing Tip ** You can easily ice cupcakes using a ziploc storage bag. Simply hold the inside tip of one corner of the bag with your forefinger and thumb and stuff into the bottom of a glass. While the bag is in the glass, fill it with icing. Take the bag out of the glass and push the icing down until it is slightly above the corner. Then snip off the corner with scissors. Push the icing out of the bag from that corner in circular motions while covering the top of the cupcake. So easy and it looks great.
___________________________________________________________________________________________
How do you eat healthy on special occasions? Any favorite cupcake recipes?